The Best Air Fryers: Non Toxic Models
After hours of research into the best air fryer models currently on the market, here are the results of the highest rated and safest non-toxic models.
Our family was suffering from lots of food intolerances, pain and bodily inflammation. We decided to heal our bodies from inflammation and started making changes to our lifestyle. Spoiler alert: it worked and I'll share a blog post about that later. In our efforts to live a more healthy lifestyle and to heal our family's gut and food intolerances, we started cleaning up our diet doing the Whole30 followed by eating Paleo for several more months, eating organic foods and taking supplements. We also started using non-toxic hygiene products on our bodies and switched to using green household cleaners in our home. We also replaced the cooking tools we used in the kitchen with non-toxic ones. Removing toxins from your body allows it to heal and reduces inflammation.
As an Amazon affiliate, I earn from qualifying purchases.Click here to read my full disclosure policy.
One of our favorite appliances in our home is our air fryer because we love how crispy it makes food without deep frying. French fries are the best in the air fryer! These spicy coconut shrimp tacos are our favorites to make in the air fryer too!
I have been researching for a safer non toxic air fryer replacement for awhile. We finally decided on this one for the best fit for our family's needs. I'll update a review on it later after we've used it for awhile. Further down the post, you can find the reasons why it's important to choose non toxic air fryers and kitchen tools.
BEST Non Toxic Air Fryers
The following are the best non toxic air fryers that are PTFE and PFOA free on the market right now. Note that some of these air fryers are hybrids and a multi-cooking appliance from being combined with a pressure cooker, grill or toaster oven.
Ninja Foodi 9-in-1 Pressure Cooker and Air Fryer
Pros:
Pressure cooker and air fryer in one appliance!
Highly rated
Ceramic coated aluminum basket free of PTFE & PFOA.
Cons:
Very large footprint for counter top and too big to store in most cupboards
Ninja SP101 Foodi 8-in-1 Digital Air Fry, Large Toaster Oven
Pros:
Highly rated
Air fryer and toaster oven in one appliance
Stainless steel and no PTFE or PFOA
Folds up vertically for compact storage
Cons:
Reviews complain that it's hard to clean inside especially if stored vertically and grease/junk runs into the back if not cleaned properly before flipping up.
Clearance height of air fryer basket to interior ceiling is slightly taller than 2″. This doesn't give much room to cook items and definitely problematic for things that rise in height when baking like breads and cakes.
Ninja Foodi 10-in-1 XL Pro Air Fry Oven
Pros:
Stainless steel and no BPA, PTFE or PFOA
Large capacity
Nice design
Variety of trays/accessories
Great reviews
Cons:
Housing exterior gets very hot
Hard to clean interior (but that's because it doesn't have a toxic nonstick coating, so it's actually a good thing)
Reviews state the menu interface rubs off quickly with use
Pay attention to which model you purchase and which one is shipped to you. There are multiple complaints of the wrong model number being sent.
Instant Pot Duo Crisp 11-in-1 Air Fryer and Electric Pressure Cooker Combo
Pros:
Multi-cooker air fryer and pressure cooker (more functions less appliances)
PTFE, PFOA and BPA free
Cons:
Although the air fryer basket is deep, it has a small capacity for air frying on the bottom of basket
Air frying results are not consistent when using the double stack rack method
Aria Air Fryers CCW-909 Aria Ceramic Air Fryer, 3Qt, White
Pros:
Teflon-Free, PTFE-Free, BPA-Free, PFOA-Free, Lead-Free, Cadmium-Free, Dishwasher-Safe, Manual, Programmable
Knob or dial controlled, helpful for the visually impaired
Instant Pre-heat: Reaches 400° in seconds
Takes up minimal counter space
Cons:
Small 3 quart capacity
Reviews complain of the coating flaking off easily
Elite Platinum EAF-05SS Digital 3.2Qt Hot Air Fryer
Pros:
Stainless Steel basket advertised.
Priced moderately.
PTFE and PFOA free.
Smaller foot print for counter top space and cupboard storage.
Cons:
Model says it contains aluminum, but not sure where that is after looking through item description.
Oster Copper-Infused DuraCeramic 3.3-Quart Air Fryer
Pros:
Ceramic coated basket that is PTFE and PFOA free.
Priced moderately.
Smaller foot print for counter top space and cupboard storage.
Cons:
Some reviews say that ceramic coating chips easily after several uses.
Small 3.3 quart capacity size
Ninja Foodi AG301 5-in-1 Indoor Electric Countertop 4-Quart Air Fryer and Grill
Pros:
Multi-cook appliance combing air fryer, dehydrator and grill in one!
Ceramic coated basket and interior PTFE and PFOA free
Highly rated
Cons:
Large footprint for counter top space. Too large to store in most cupboards
Priced on the moderate to higher end of like kind of models
Ninja FG551 Foodi Smart XL 6-in-1 Indoor Grill with 4-Quart Air Fryer with leave-in thermometer
Pros:
This model is the newer version of the

Ninja Foodi AG301

above but with added features like a leave-in thermometer for more precise cooking of meat.
Grill 50% more food than the original Ninja Foodi Grill due to larger grilling surface area.
Multi-cook appliance combing air fryer, dehydrator and grill in one!
Ceramic coated basket, grill pan and interior PTFE and PFOA free.
Attractive style and design
Highly rated.
Cons:
More expensive than the other models listed
Still slightly on the larger side for counter top space and cupboard storage.
Ninja Air Fryer 4 Quart Capacity
Pros:
Small footprint for counter top space and cupboard storage
Ceramic coated basket and interior PTFE and PFOA free
Priced moderately.
Highly rated.
Cons:
Smaller 4QT capacity if needing to feed a larger family
Not a multi-cooker appliance like other models above
Ninja Max XL Air Fryer 5.5 Quart
Larger 5.5QT capacity compared to it's smaller model
Ceramic coated basket and interior PTFE and PFOA free
Comes with a stainless steel rack that allows more cooking on bottom of basket and on top of rack.
Priced moderately.
Highly rated.
Cons:
Not a multi-cooker appliance like other models above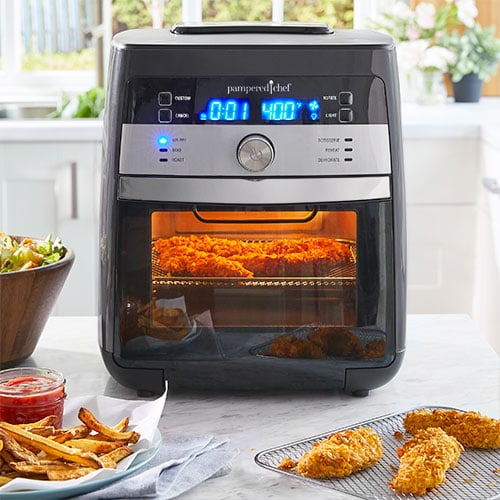 Pros:
Large capacity 11.6 QT, can fit up to 4 lb whole chicken.
Air fry, bake, roast, dehydrate all in one appliance.
Multiple racks to cook more things at the same time.
Stainless Steel basket, rotisserie/forks, cooking racks and top protective shield.
Interior walls are aluminized steel
PFOA & PTFE free!
Cons:
Larger than a stand alone air fryer, but not as big as some toaster ovens.
Higher end price range unless you host a Pampered Chef party and then you can use your host discount to get it much much cheaper!
Pros:
Glass bowl with no coatings or metal
Most non-toxic model due to glass bowl and stainless steel parts
Budget friendly, affordable
Cons:
Glass bowl is exposed and can be hot to the touch. Caution around young children.
Bulky and takes up a lot of counter space.
THE BEST Non Toxic Air Fryer we bought
To be honest, it was so hard to decide between getting just this air fryer model or the toaster oven/air fryer feature combo so that we can use the appliance for so many more things. We could eliminate the need for our current toaster and the larger Pampered Chef Delux Air Fryer Oven would take up the space that both our current air fryer and toaster take up. We could cook more fries at one time with the toaster oven/air fryer combo too because let's be honest, we have a large family and we love our fries.
But, in the end, we decided the best fit for our family needs was this air fryer for its capacity, size and price. Were also highly considering this grill/air fryer model too but since we have already have a nice new gas grill in our patio, we won't need the grill option. And now, if you're wondering why we made these appliance changes and why it's important to avoid using these chemicals, read below!
Why is it important to buy a non-toxic air fryer that is free of PTFE and PFOA chemicals?
You can read more information about the harmful impacts these chemicals have on our bodies and environment here, here and here.
In a nutshell, PFOA is a harmful chemical that is used to help PTFE another harmful chemical (also known as Teflon) to bind and coat surfaces to make them nonstick such as typically found in pots/pans and kitchen appliances like air fryers, griddles and waffle makers. The accumulation of these toxic substances in our bodies causes serious health problems.
PFOA
PFOA is a man-made chemical called perfluorooctanoic acid that is also known as C8. It was used to help PFTE to bind to products. The US has banned the creation of PFOA due to how hazardous it is to our environment and its inability to decompose. It's causing toxic pollution found world wide. Despite the US ban, you can find products with it on the shelves in a store near you because although it's banned from being produced in the US, it can be imported. A lot of the items on the shelves are made in China, where this chemical is still being used.
The health effects from this group of chemicals range from tumors, heart disease, Parkinson's disease, kidney disease, osteoarthritis, low birth weight and more that you can read about here. It can also cause cancer; breast, ovarian, thryoid, kidney, testicular, prostate and bladder.
Even though PFOA is mostly being phased out of production, it's been replaced with another group of chemicals known as GenX which recently has been discovered as just as harmful.
PTFE
This nonstick substance is Polytetrafluoroethylene (PTFE) and can be found in many products from cookware to consumer packaging. It has been shown to cause flu-like symptoms also known as fume-fever in some humans. The fumes from PTFE is also known to be harmful to birds and can cause death.
And sadly these chemicals have created toxicity in our ground water. The movie, Dark Waters, also sheds some light on the environmental lawsuit against Dupont, a chemical company and creator of Teflon (PTFE), with a lengthy history of pollution.
Whew! I know that's a lot of info and can be overwhelming to take in. Knowledge is power though, and now you can make safer non toxic purchases with this awareness moving forward. Wish you the best of health and crispy air fried french fries.